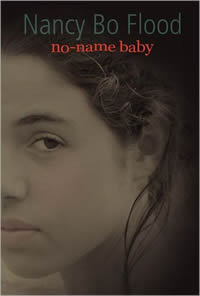 Publication:
March 1, 2012
Source:
Publisher via NetGalley
Goodreads Summery
Sophie remembered last night's dream and the gray stones-a whole row of them like the ones under the trees. Each stone was etched with letters that she couldn't quite read. When her pregnant mother falls, Sophie blames herself for the accident. Premature labor begins, and everyone worries the infant might join the others under the gray stones. Aunt Rae has come to help care for the baby and mother, but her presence only increases the tension in the family. Then Aunt Rae finds her niece talking with the young man from a neighboring farm and confronts her, revealing something that shakes Sophie's world.No-Name Baby is an intimate portrait of a young girl as she discovers the truth about herself and her family.
My Thoughts:
This is the story of Sophie. She is an Italian-American teenager living in post WWI Illinois.Sophie lives on a farm with her parents and maternal grandmother.
Sophie's Aunt Rae has come from Chicago to help before and after the baby is born. The family has it's secrets. Sophie is not allowed to see the family bible, which is kept under lock and key.
Sophie's mother is pregnant and everyone is concerned that she will have this baby early and lose it, as has happened with 3 other babies. When Sophie's mother falls and begins laboring early Sophie blames herself. Everyone in the home is on edge, especially Aunt Rae. Sophie and her Aunt already have a tense relationship and things become worse when her Aunt sees her with Karl, a young man Sophie's father has hired to help with the farm and attends school with Sophie. I never quite understood why Aunt Rae dislikes Karl so much. She does all she can to keep Sophie from seeing Karl. It didn't take me very long to figure out the family secret I just didn't get why Sophie couldn't know. It was just a matter of time before Sophie found out. I was glad that Sophie got to find out the family secret on her own terms. This is the first book I have read by Nancy Bo Flood and I'm sure I will be reading more of her in the future.