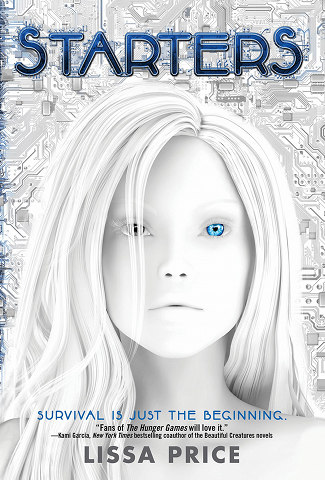 Title:
Starters
Publication:
March 13, 2012
Publisher:
Delacorte Books for Young Readers
Source:
Publisher via NetGalley
Genre:
Young Adult/Dystopian
Goodreads Summery
Callie lost her parents when the Spore Wars wiped out everyone between the ages of twenty and sixty. She and her little brother, Tyler, go on the run, living as squatters with their friend Michael and fighting off renegades who would kill them for a cookie. Callie's only hope is Prime Destinations, a disturbing place in Beverly Hills run by a mysterious figure known as the Old Man.

He hires teens to rent their bodies to Enders- seniors who want to be young again. Callie, desperate for the money that will keep her, Tyler, and Michael alive, agrees to be a donor. But the neurochip they place in Callie's head malfunctions and she wakes up in the life of her renter, living in her mansion, driving her cars, and going out with a senator's grandson. It feels almost like a fairy tale, until Callie discovers that her renter intends to do more than party- and that Prime Destinations' plans are more evil than Callie could ever have imagined.
My Thoughts:
Starters is the fascinating story of Callie, a 16 y/o left orphaned after the post apocalyptic sport war. She is caring for her sick brother and struggling daily to live. Callie is given a job opportunity that can change her life for the better. Is this job to good to be true? I found this to be a great story. The author had me from the first sentence and I could not put this down. I really like Callie as she is strong and will do anything for her family. I can relate to her in that way. As for the starters, in general, I feel empathy for them. They are left all alone to fend for themselves. They trust no one including other starters. As for the enders I am angered by them. Many of them have the ability to make things easier for the starters and they choose not to. This book is full of mystery and leaves you wanting more. I'm anxiously waiting for the next installment Enders to answer the questions I was left with after reading Starters.